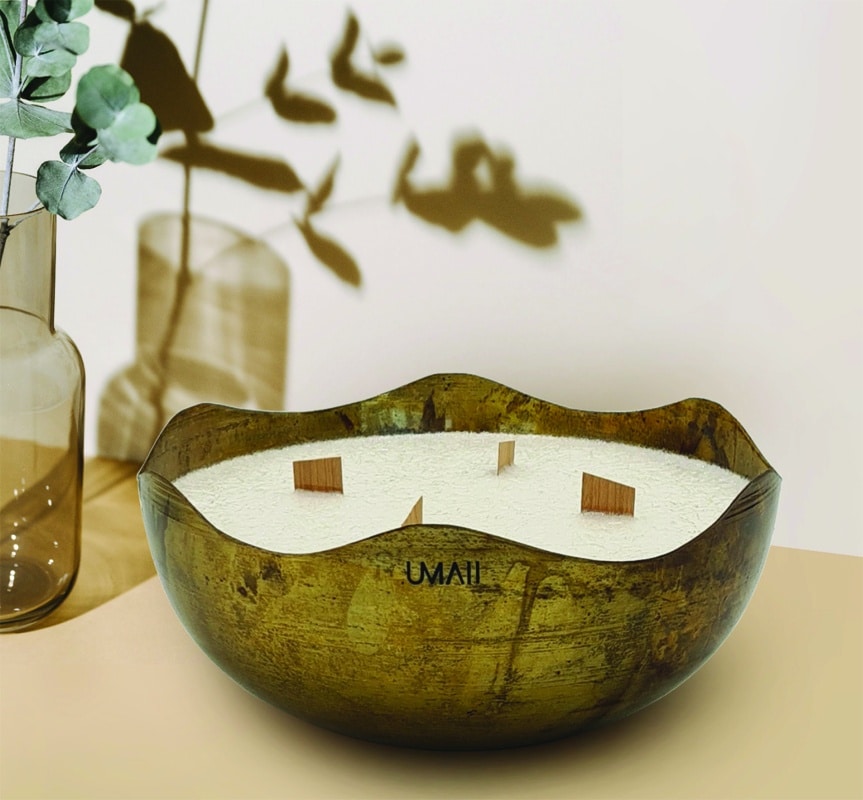 What is my UMAII candle made of?
UMAII candles are 100% ecological and mainly consist of vegetable stearin. They are also free of added chemicals (paraffin) and animal fats. Due to the use of vegetable, ecological wax, your UMAII candle can withstand high temperatures.
We have consciously chosen not to use paraffin. Paraffin is a type of fat that is made from petroleum / mineral oil. This involves a significant processing, which means it cannot really be seen as 'natural'. Many paraffin-based candles indeed contain substances that are possibly carcinogenic or that can cause asthma, eczema and other harm. This is evident from a report by the American Chemical Society (ACS). Candles based on natural wax were also tested by them. No toxins were found after combustion.
Umaii is one of the only candle producers that can purchase olive wax. After the production of olive oil, the remnants are used in the cosmetics industry or animal feed. Only a very limited amount is converted into candle wax.
Our olive wax is a European product, does not melt in the sun, and provides candles with a super long burning time.
Why doesn't UMAII have scented candles?
We consciously chose not to add fragrances to our candles. To be sufficiently fragrant, most fragrances are chemical. Or, if they are natural perfumes, their use becomes unaffordable for the size of our candles.
Lighting a new candle for the first time.
Full candles should first be burned for at least 2 hours in a wind-free place. This ensures a nice melting process and optimal candle burn.
Where should I (not) put my candle?
Don't put your candles too close to a heat source. This is to prevent them from melting (from 60 degrees Celsius). UMAII candles do not melt or deform in the sun.
How do I best extinguish my candle?
Gently blow out the candle or extinguish it with a snuffer. With large candles, we recommend extinguishing the candle with a spoonful of candle wax. This makes the candle easier to light next time.
How do I ensure my candle can burn safely?
First and foremost, it is important that your candle always stands on a stable surface. Make sure you do not burn the candle on or in objects that easily catch fire. Always keep your UMAII candle out of the reach of children and pets. Be careful: not following the usual precautions can lead to fire and physical injury.
How do I extend the life of my candle?
Occasionally trim the wick with a candle snuffer or break off a piece of the cold wick so it is never longer than 1 cm. Even our wooden wicks can be very short, 1 mm is already sufficient for a full flame.
About our metal pots
We consciously chose to design and use pots made of recycled metal. Again something different. Since we only use recycled metal, no color is the same. Our pots are perfectly reusable and refillable.
How can I refill my metal bowl?
You can now refill your metal bowl yourself. First place an order via the webshop. You can find instructions on how to refill the bowls on the back of the packaging or watch our video. Now you can fully enjoy your UMAII candle again.
My wooden wick is not burning well?
My wooden wick burns faster or slower than the others. What can I do about this? Just because we keep everything natural, we cannot control whether the wooden wick comes from a piece of wood that burns fast or slow. If the wick burns too quickly and it "drowns" in the wax, then you can tilt the bowl a bit so that the wax can drain off. You can also blow it out and clear the wick afterwards. Usually, the wick then burns at the same pace as the others. Possibly repeat a second time. In any case, everything will be fine. Our candles are perfectly imperfect, just like nature.
How do I maintain my white UMAII candle?
Any stains can be removed with a damp cloth and a non-aggressive cleaner. Scratches are best carefully removed with a soft scrubbing sponge.
How do I treat the Corten steel columns?
Upon delivery, the Corten steel columns are not yet 'rusted', this process can take several weeks to months. Although the patina is permanent, it may release some rust in the first few months, under the influence of, for example, rain. So, make sure the column is placed on a surface that can get dirty. Corten steel is not resistant to wet leaves. These slow down drying and thereby accelerate corrosion locally. Want to speed up rusting of the Corten steel? That's possible. For this, you mix three large tablespoons of salt in ten liters of warm water. Then, you generously pour this salt solution over the column. It goes without saying that the column then needs to stand on a surface that can get dirty for a while.
I am not satisfied. Can I send my products back?
After receiving your order, you have fourteen days to return your products. It is important that they are unopened, have not been used, and are in their original packaging. The shipping costs of the return shipment are at your own expense. As soon as the products are back with us, the refund is arranged. Indicate via your account that you wish to return the products via account page > orders > actions > cancel.
DELIVERIES OUTSIDE BELGIUM & THE NETHERLANDS
Our standard deliveries are only available in Belgium and the Netherlands. For deliveries to other countries, please contact us so that we can obtain the best transportation rates for you.